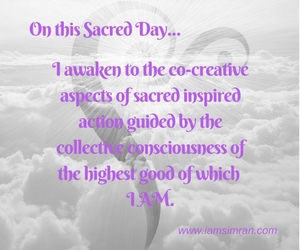 What is the dream… the desire…                                                       the creation living in your cells?
Do you feel like you are chasing the clock?
Does it feel like all you do is work?
Are you bound by obligations?
Are there fears or anxieties that whisper softly, or speak loudly?
Are you numb, bored, apathetic or checked out?
Do you feel free?
Or, are you bound by your life?
I don't work. I create. That space of creation comes from a level of balance that is living from where two worlds touch. I ground in this earthly realm from the perspective that 'the doing' can only happen from a place of 'inspired creation' of the heart… of DEVOTION.
Come… Experience a long weekend of creation…
If it is 'work', based in the ego, my body speaks to me… STRONGLY; I feel tired, begin yawning or get sick. Projects drag on… things do't complete… and, there is no fulfillment.
I took two years off to be with myself and really discover the intricacies of the ego, and the impulses that drive me. I don't work anymore. I don't keep lists. I don't have a schedule. Yet…
I create a lot.
I have time… all the time I need.
I trust completely.
I have all that I need, and more…
I live with a sense of freedom.
AND… YOU CAN LIVE THIS WAY TOO! … How????
Open the way into your heart… your mind… your Genie-us!
By stepping out of your life for a few ays and engaging Creative Capacity in a new way. I have had many people ask me how I create all the things that I do… how I have the ongoing inspiration… energy… and sustenance. Well, I don't just want to share it, i want you to live it… immerse in it… engage with the experience of it. Even better, an experience with other creatives so you have a creation family around you.
Join me, and a few others, for your personal dive into
creative pursuit… passionate exploration… a-musing endeavors;
opening to the elements of your unique GENIE-OSITY!
What would you like to create in your life now?
No past experience necessary… 'cause we gonna create one!
Schedule Your 1-1 Creative Cocoon Immersion Here
In Love & Oneness… Simran
SimranOne LLC
PO Box 13795, Charleston SC 29422
www.iamsimran.com – www.1111mag.com
Mentoring, Courses, Books, Art & Speaking
11:11 Talk Radio – 11:11 Magazine – 11:11 TV